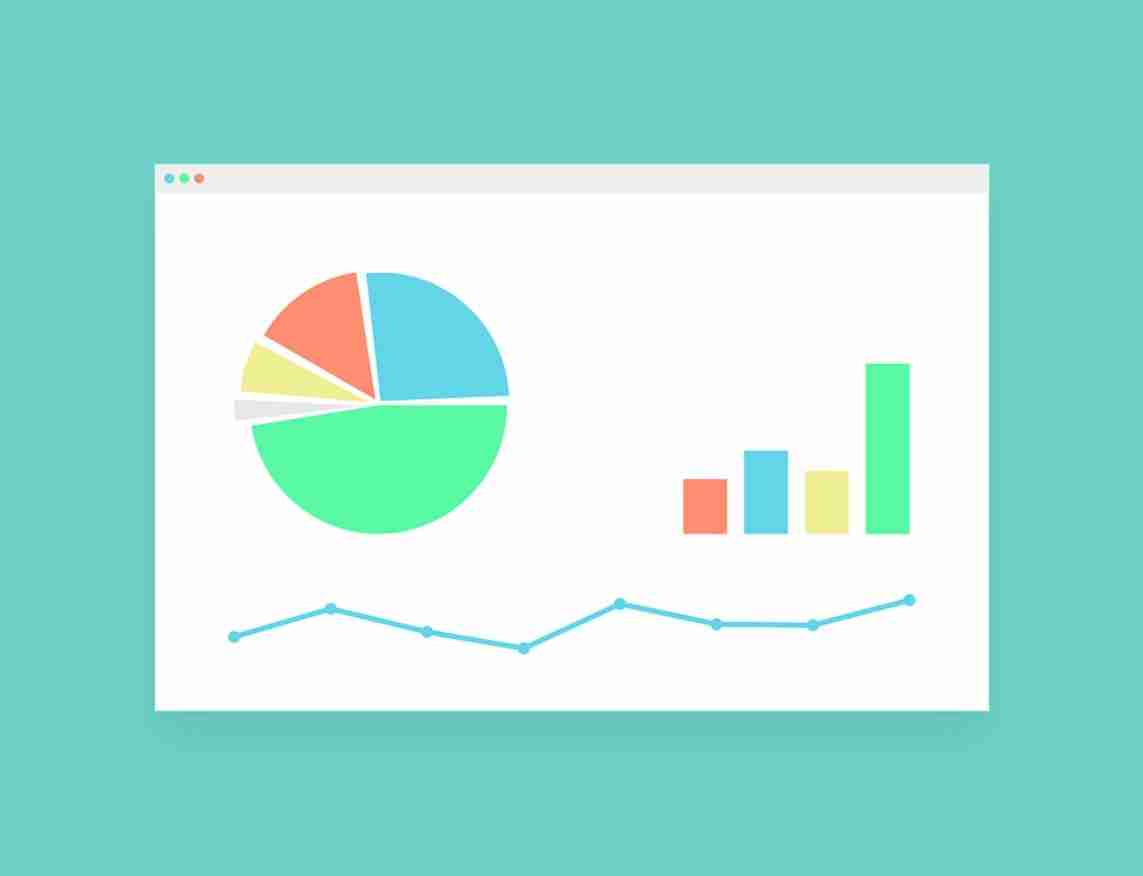 AliExpress was launched in 2010 and in over a decade, has become one of the leading online stores worldwide and arguably the number one store that comes to mind when you think of where to buy something cheap.
AliExpress is a subsidiary of Alibaba – an e-commerce marketplace that connects manufactures and suppliers to retailers and have been around since 1999.
The growth AliExpress has enjoyed in the ecommerce industry is something to admire despite coming more than a decade later than the leading online stores (Amazon and eBay) which started in the late 1990s.
So far, AliExpress has penetrated 1/5th of the global online shoppers and has become a to a new ecommerce trend called dropshipping.
As a matter of fact, if you put into consideration the number of people that buy through dropshipping stores, who, indirectly are buying from AliExpress, the penetration of the AliExpress in the global ecommerce industry will be much higher than it is estimated to be.
In this statistic roundup, you will learn:
Official number of AliExpress Users (monthly)
The number of AliExpress app downloads
AliExpress User Growth Rate History
Global online store ranking – AliExpress' 4th
AliExpress User Demographics
AliExpress Revenue
So, without further ado, let's jump right into it.
AliExpress Statistics (Key takeaways)
AliExpress active users: AliExpress has 400 million monthly active users.
AliExpress market penetration: There are 2.5 billion online shoppers. 16% off those shoppers uses AliExpress.
Number of downloads: The AliExpress app has been downloaded more than 500 million times and ranks 6th in global online shopping app and the number 1 downloaded shopping app in Russia.
Company valuation: AliExpress parent company (Alibaba) is worth $480 billion as of 2020. AliExpress itself is estimated to worth $3.63 billion as of 2021.
User growth rate: AliExpress grows by an average of 12% annually.
U.S. market penetration: Of the 400 million monthly AliExpress users, 26 million come from U.S, which accounts for 6.5% of the AliExpress users.
A bit about AliExpress
AliExpress is a China-based ecommerce website and owned by Alibaba group and was launched in 2010. It is an online retailer that enables small businesses to sell their products to customers all around the world. It was named the most visited e-commerce site in Russia and 10th most popular in Brazil. Through its platform, sellers can reach buyers from different countries. It has been compared to eBay due to how independent sellers can offer their products to buyers.
(Source: Wikipedia)
Monthly Number of Active AliExpress Users
How Many People Use AliExpress?
According to the information available at Similarweb, AliExpress has just over 400 million monthly active users. This places AliExpress 4th on the list of most visited global e-commerce website. Behind Amazon, eBay and Walmart.
Global AliExpress User Penetration Statistics:
AliExpress has 400 million monthly active users
Out of 2.5 billion online shoppers globally, 16% uses AliExpress.
Out of the 4.8 billion internet users worldwide, 8.33% uses AliExpress.
Top AliExpress Users by Country
12.95% off the monthly active users on AliExpress come from Brazil, 7.12 come from Spain, 6.94 from France, 6.56 from U.S., 4.26 from Korea Republic and the rest of the countries account for 62.17%.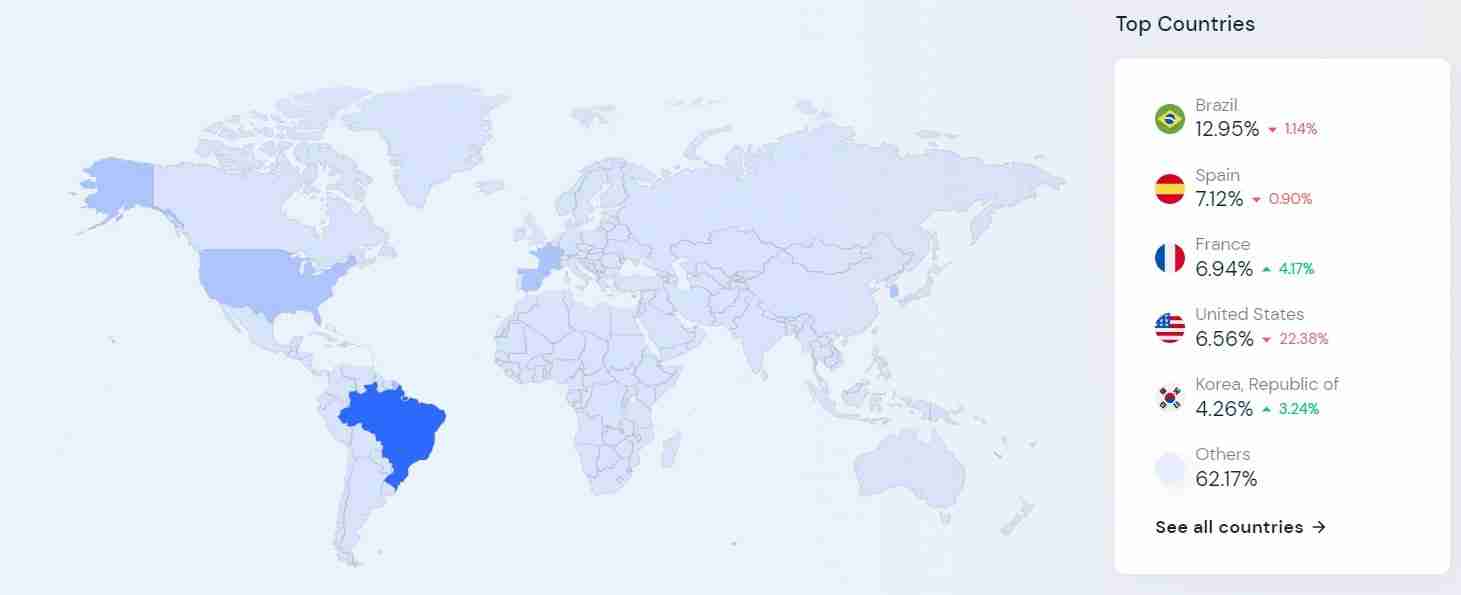 (Source: Similarweb)
Top 10 most visited online stores
AliExpress ranks 4th on the list of 10 most visited online stores in the world. Behind Amazon – 3 billion, eBay and Walmart – 500 million.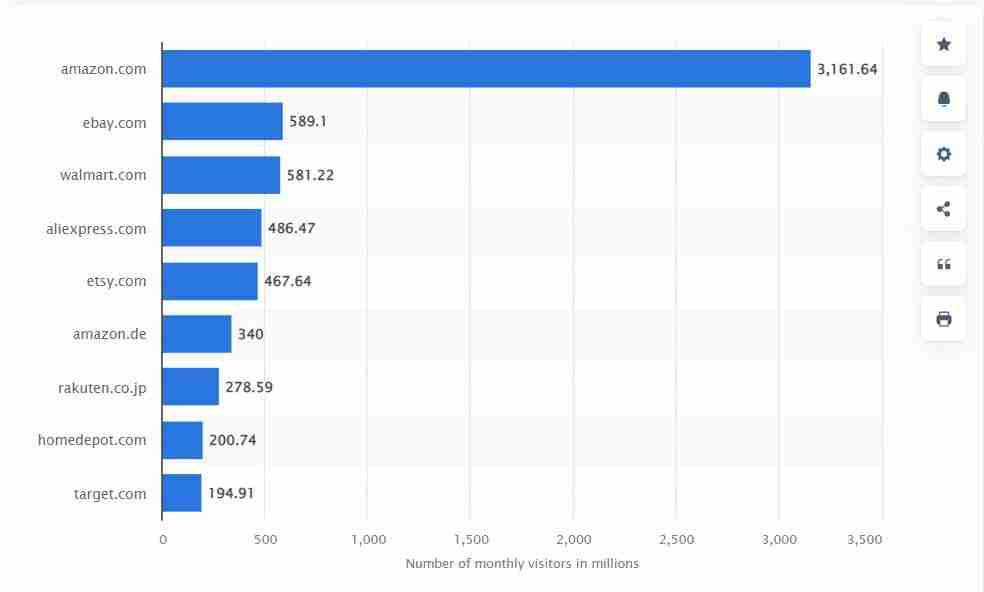 Other stores on the list include etsy.com, Rakuten, Homedepot, and Target.
(Source: Statista)
AliExpress Revenue
"In the fiscal year ending March 2020, AliExpress revenue for Gross Merchandise Value (GMV) reached a historic $1 trillion. According to the company's Chief Executive Officer Daniel Zhang, its 960 million customer base worldwide made it possible for digital sales to continue to rise amidst the pandemic."
(Source: Techjury)
AliExpress User Statistics Overview
According to Statista, AliExpress had a whopping 784 million active users in 2020. These users generated over $27 billion in revenue for the platform, making it one of the most successful e-commerce marketplaces in the world.
In terms of geography, AliExpress has a global reach, with users from over 220 countries and regions. The platform is particularly popular in Russia, where it's the second-most popular e-commerce website after Amazon.
Demographics of AliExpress Users
So who are the millions of people who use AliExpress? Let's take a closer look at the demographics.
Gender: AliExpress users are split fairly evenly between men and women, with 51% male and 49% female.
Age: The majority of AliExpress users fall in the 25-34 age range, making up 33% of the userbase. The second-largest group is aged 18-24, at 27%.
Income: AliExpress users come from a range of income levels, but the majority have an annual income of less than $50,000. This is likely due to the platform's reputation for offering affordable products.
Shopping Behavior on AliExpress
So what are AliExpress users buying, and how often are they shopping on the platform? Let's take a look at some key statistics.
Frequency of Purchases: According to eMarketer, the average AliExpress user makes 2.6 purchases per month.
Cart Size: The average cart size on AliExpress is $15.60, which is significantly lower than on other e-commerce sites like Amazon.
Payment Preferences: AliExpress offers a range of payment options, but the most popular is the AliPay Wallet, which is used by 72% of users.
Shipping Preferences: AliExpress offers various shipping options, but the most popular is ePacket, which delivers to over 40 countries and regions in 7-14 days.
Most Popular Product Categories on AliExpress
With millions of products available on AliExpress, it's interesting to take a closer look at the most popular product categories. These categories make up the best-selling products on AliExpress. According to Statista, the top three product categories on AliExpress are:
Consumer electronics: 33%
Clothing and accessories: 25%
Home and garden: 14%
Shipping and Payment Preferences
In addition to ePacket and AliPay Wallet, AliExpress also offers other shipping and payment options, such as credit cards, PayPal, and more. However, it's worth noting that the availability of these options varies depending on the user's location.
Why People Buy on AliExpress
One of the main reasons for AliExpress's popularity is its affordability. The platform offers a wide range of products at competitive prices, with many sellers offering free shipping. In fact, according to SimilarWeb, 33.15% of AliExpress users make purchases on the platform because of its low prices.
Additionally, AliExpress users are highly engaged, with an average session duration of 8 minutes and 37 seconds. This means that users spend a considerable amount of time browsing products on the platform before making a purchase.
AliExpress User Reviews
User reviews are an important part of the AliExpress shopping experience. According to Statista, 78% of AliExpress users read reviews before making a purchase. Additionally, the platform encourages users to leave detailed reviews and ratings for products, which can help other shoppers make informed decisions.
Mobile Usage on AliExpress
Mobile usage is becoming increasingly important for e-commerce platforms, and AliExpress is no exception. According to SimilarWeb, 75.73% of AliExpress's website traffic comes from mobile devices. This highlights the importance of optimizing the platform for mobile users.
Conclusion
That's the end of our statical roundup of AliExpress users.
It is impressive how AliExpress has grown over the past decade, despite being relatively new in the industry compared to its major competitors.
Over to you, what do you think of AliExpress with the information you have learned here?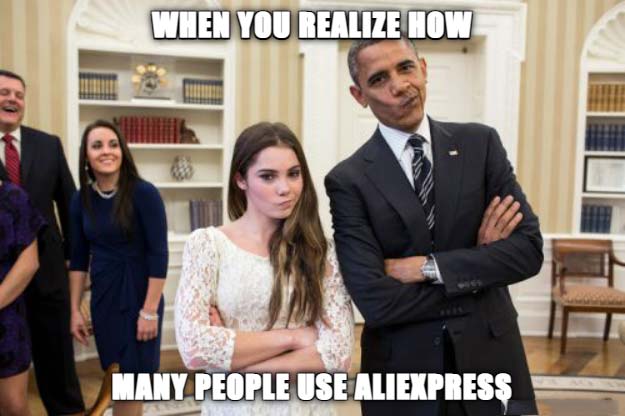 Latest AliExpress Coupons
Ready to shop on AliExpress? Use AliExpress coupons to save big on your order.
Filter by Country

All categories

Brazil

France

Global

Korea

Spain

USA
Best value
Take advantage of this AliExpress September coupon and get extra $14 off your order over $120 for top selected products. Offer valid only for a limited time.
Take advantage of this AliExpress September coupon and get extra $6 off your order over $50 for top selected products. Offer valid only for a limited time.
Take advantage of this AliExpress September coupon and get extra $3 off your order over $25. Valid only for a limited time.
Take advantage of this deal and get up to 70% OFF on your order on AliExpress and save more with coupons. Offer valid only for a limited time.
Filter by Country

All categories

Brazil

France

Global

Korea

Spain

USA