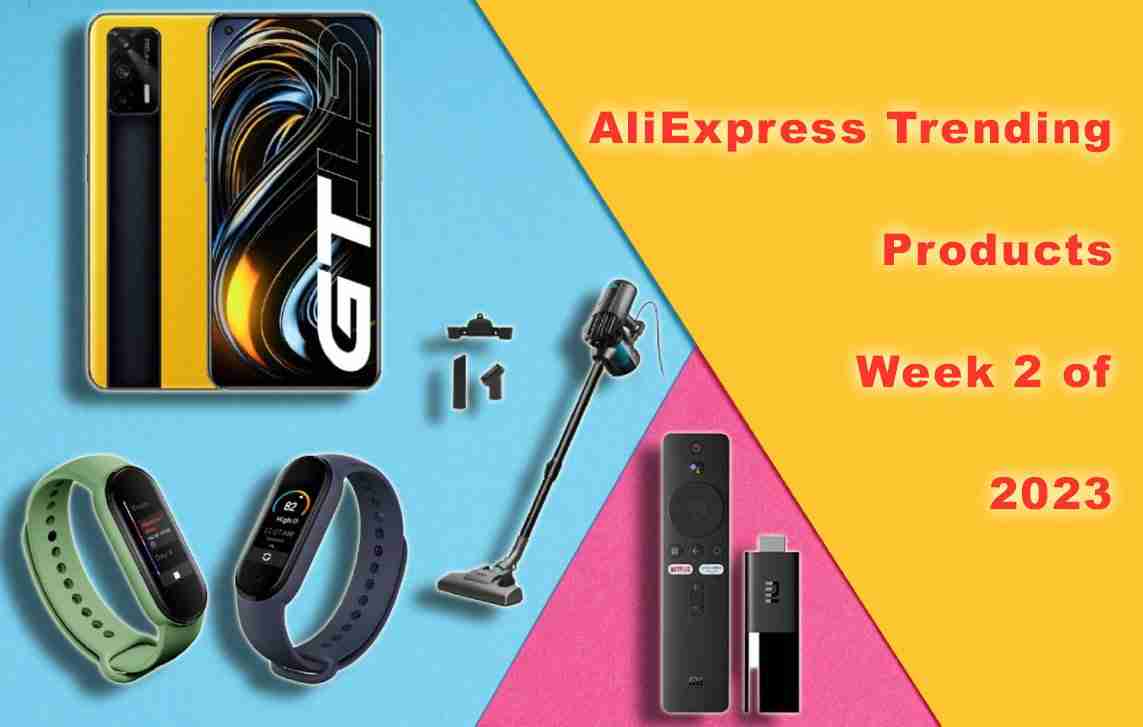 It is another week to bring you the top trending AliExpress products and this week is the week of AliExpress winter clearance sales. There have been a lot of mouth-watering deals and coupons. Many smart shoppers have taken advantage of these deals and coupon to save big on their purchases.
The winter clearance sale will end soon but you still got a last-minute chance if you have not taken advantage of it already.
You can follow the AliExpress sales for the year through our AliExpress sales calendar for 2023 to make sure you don't miss out on any great sales event for the year.
Without further ado, let's us look at the top AliExpress trending products for 2023.
Top 10 Trending Products on AliExpress for 2023
1. Universal Car Seat Gap Filler

Tired of reaching under your car seat every time to find your items? This simple car accessory will save you a lot of troubles. It is a simple tool that fills the gap between your car seats and prevents items like your phone, wallet, keys etc from falling under the seat. The Car Seat Gap Filler can fit with 99% of the vehicles. It is suitable for both left and right seats. It is made of PU MI material and it is comfortable to touch. It is 5CM thick and elastic which makes it fit perfectly into the gap after installation.
2. Smart Automatic Curtain Opener

Ever wished you could open your curtain from right where you are? Well, this cool gadget let's do just that. You attach it your curtain and you can open and close your curtain remotely with your mobile phone. It is a smart machine with luminosity sensor and temperature sensor that automatically closes the curtain when the luminosity or the temperature is greater than the one set. It supports Alexa and Google Assistant smart speakers. The Automatic Curtain Opener is a rechargeable device with long lasting battery that can last up to 6 months on a single charge if it is used to open the curtain on average of 4 times a day. Now you can be a magician in your house and control your curtain from right where you are.

Our previous weekly AliExpress product round up featured a cool back seat organizer that lets you organize your back seat for people at the back.
This one is a car organizer for the front seat. It is a compact console side storage with cup holder. The storage is good for simple items like your phone, wallet, lighter, keys, etc and features a hole through which you can pass USB cable and charge your phone while in the storage compartment. This simple accessory does two jobs at the same time: it serves as seat storage box and also serves as a gap filler to prevent items from falling under the seat.
It is simple to install and fits for almost any type of car and doesn't affect seat belts.

This cleaning gel lets you reach every nook and cranny of your car when cleaning it. It is safe to use and leaves no trace, no surface damage or fragrance. The cleaning gel works by absorbing dust and dirt when you press it onto the surface of where you want to clean. The gel may also kill common bacteria in the car. It can be used for many times until the cleaning compound turns into a dark colour. Aside from cars, you can use it for cleaning other stuff like computer keyboard and other electronics.
5. Smart Cordless Screwdriver

One thing that draws attention to this Smart Cordless Screwdriver is its design. As a matter of fact, the design of the screwdriver took it to the 2020 IDEA Design Award final. If not for anything, it doesn't look anything like screwdriver. But the design aside, it is a powerful electric screwdriver that can serve for over 1000 screws on a single full charge with 12 pieces S2 steel bits. It features a circular LED shadowless lamp and a mechanical knob in electronic torque control. The operation of the screwdriver is as simple as it can get and easy for anyone to understand and use it. It features a double-layered non-slip grip that puts it firmly in your hand and it is portable enough to be used in any situation, even in tight corners.
6. Portable USB 3.0 SSD Flash Drive

SSD drives has become the new trend in the storage industry. It is known to be faster than HDD and with lesser moving parts. This flash drive features SSD storage, coupled with high-speed USB 3.0 port that takes the transfer speed to a whole new level. It is available in 4 different storage capacity (2TB, 4TB, 8TB and 16TB) with optional Type-C adopter. It is compatible with all types of PC and operating systems.
7. Anti-Slip Car Phone Holder Mat

This Anti-Slip Car Phone Holder Mat is a must-have accessory for any driver. This versatile mat securely holds your phone in place, preventing it from slipping or sliding while you're on the road. The mat is made of durable, non-slip material that keeps your phone stable, even on bumpy roads. The holder is compatible with all types of smartphones and doesn't need any installation. Just place the mat on your dashboard and place your phone. The phone holder rotates 360 degree which means you can turn your it to any side you want. It's also easy to remove and clean, making it the perfect solution for keeping your phone accessible and safe while you're driving. With this Anti-Slip Car Phone Holder Mat, you can stay focused on the road while easily accessing your phone's navigation, music, and hands-free calling features.
8. Plush Winter Pet Kennel

The Plush Winter Pet Kennel is the perfect solution for keeping your furry friend warm and cozy during the colder months. This kennel is made from soft, plush material that provides insulation to help keep your pet warm. The interior is lined with a cozy fleece material that is gentle on your pet's skin. The kennel is designed to fit most small to medium-sized dogs and cats, and it is machine-washable for easy cleaning. The kennel is designed to be portable and easy to carry, so you can use it at home or on the go. With this Plush Winter Pet Kennel, you can give your pet the ultimate in comfort and warmth during the cold winter months.
9. V9 Bluetooth Business Headphone

The V9 Bluetooth Business Headphone is the perfect solution for professionals on the go. Equipped with Bluetooth V4.2 technology, these headphones allow for seamless connectivity to your devices, making it easy to take calls or listen to music. The high definition stereo sound provides an immersive listening experience, while the intelligent noise reduction and CVC 6.0 technology work together to deliver crystal clear audio.
The smart chip and long lasting battery ensure that you can use your headphones for hours without interruption. The headphones are designed to be comfortable even when worn for long periods of time, so you can wear them throughout your workday without any discomfort.
With the V9 Bluetooth Business Headphone, you can stay connected and productive while on the go.
10. A9 Wireless Mini Surveillance Camera

The A9 Wireless Mini Surveillance Camera is the ultimate security solution for your car, home or office. This compact camera is packed with features to provide you with peace of mind, no matter where you are. The camera supports TF card storage, allowing you to store and view your footage without the need for a separate device.
The long lasting battery ensures that the camera can run for hours without interruption, and the wide angle lens provides a comprehensive view of the room. The camera also has motion detection, so it will only start recording when it detects movement. This feature helps save battery life and storage space.
The camera is easy to install and has a stable performance, so you don't have to worry about technical difficulties. The camera also has HD 1080p resolution and IR night vision, so you can see clearly even in low light conditions. With this A9 Wireless Mini Surveillance Camera, you can keep an eye on your property and loved ones at all times.
So, these are the top trending products on AliExpress for this week. We hope you found something new here and we look forward to seeing you next week for another product round up.