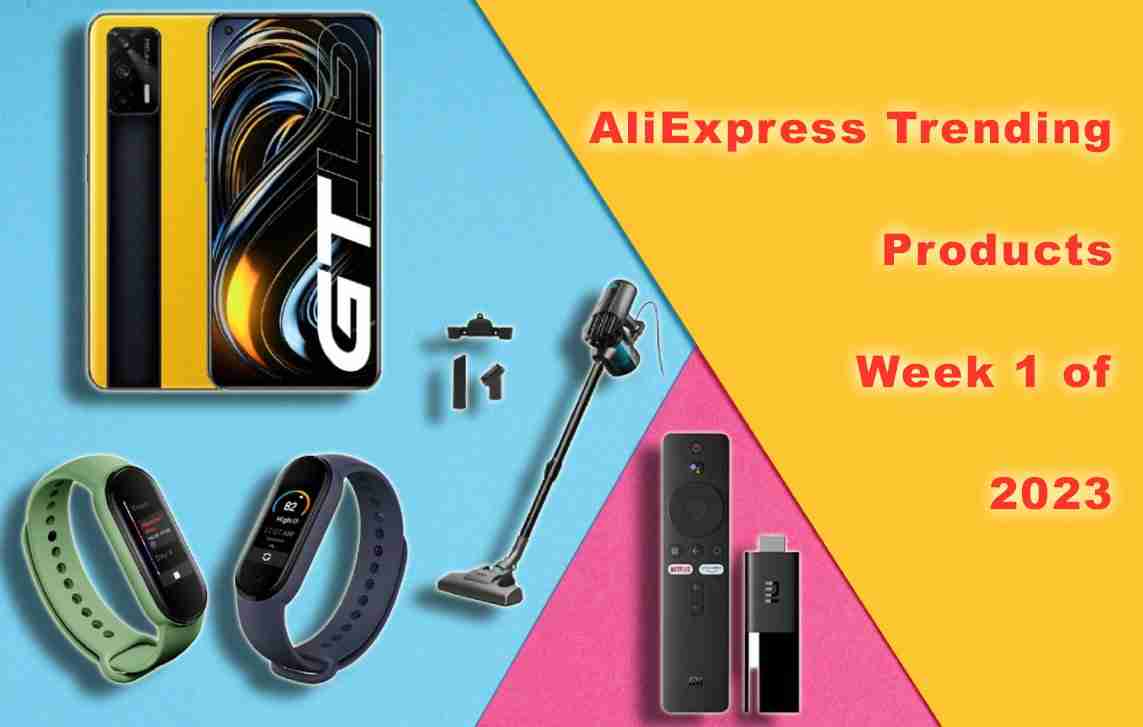 It is the first week of 2023 and we want to use this opportunity to say a very Happy New Year to all our readers!
It is time to bring you another top 10 trending products on AliExpress for the week. These are products you need but don't know you need them until you see them and we believe they will help you start 2023 like a pro.
So without wasting time, let's look at these products and find out why they are the most popular. Shall we?
Top 10 Trending Products on AliExpress for Week 51 of 2022
1. Anti-Lost Earphone Hook

How many times has your Bluetooth earphones fallen off your ears? You have probably lost count. And you have probably lost that cool earphone because you didn't know when it fell off.
Or maybe it hasn't happened to you yet?
But do you have to wait on till you fall victim before you take heed?
This hook does one simple thing, and it is to secure your wireless earphones to your ear and prevent it from falling off no matter the activity you engage in. More so, it is selling for only $0.79 for a pair. So, what reason do you have not to get one if you use wireless earphones?
Tell a friend to buy for you
2. Dual Laptop Screen Extender

Have you ever wished you could extend the screen of your laptop to make it bigger? Possibly doing one thing on one screen and doing another thing on another screen? Well, you can now, thanks to this innovation.
This is a dual screen extender for your laptop that enable you to extend your screen on both sides. This is ideal for gamers, traders or someone who multitasks a lot.
Tell a friend to buy for you
3. 3D Vortex Illusion Carpet

Want something cool in your room? Then you got one here.
This is a 3D illusion carpet that will get your head spinning. The carpet is made of anti-static, flexible, soft and comfortable fabric. With no smell or harmful substance. It is easy to clean, either by hand watch or with washing machine.
It comes in different sizes and it is fit for any room, be it living room, bedroom, children's play area, door entrance, kitchen floor etc.
Tell a friend to buy for you

If only there is a way to attach your phone to the side of your laptop…
Well, there is a now. Thanks to this magnetic phone arm. You can use it to attach either your mobile phone or table to the side of your laptop. It is a simple tool with a simple operation but with a powerful magnetic force. So, you don't have to worry about your phone or tablet falling off. This enables you to interact with double screens side-by-side. It is small, portable and light weight that you will barely notice you are carrying it with you. 
Tell a friend to buy for you
5. Car Back Seat Organizer

Want to keep the back of your seat neat and tiddy for the people at the back? Then this Car Back Seat Organizer is a must have.
It is a multifunction storage bag that is well designed and able to accommodate many thing. The seat organizer comprises of the following features: book and impurity storage bag, mobile phone holder, foldable dining table, special storage bag for umbrella, water cup and beverage can holder, and special storage bag for paper extraction.
This is all you need to make sure your family is comfortable at the back.
Tell a friend to buy for you
6. Type C Mobile Phone Game Controller

Do you want a better gaming experience on your mobile phone? Then you should definitely get one of these. With this game controller for mobile phones, you will enter full gaming mode with your phone.
It is for Android devices with Type C USB ports. The game controllers supports over 70 cloud games that runs smoothly with it. Including E-sports games. Some of the popular games include Minecraft, GTA, Asphalt, Implosion, NBA 2K20. Into the Dead, Marvel: Future Fight and many more. You can see a full list of supported games on the product page.
It is a portable device and can extend up to 173 mm.
Tell a friend to buy for you
7. Funny 3D Frying Pan iPhone Case

Maybe it is time the heat that emanates from the back of your iPhone becomes useful. Simply attach this frying pan phone case to your iPhone and it will serve as a stove for the frying pan to fry your egg. The good part is that you can carry it along with you. Which means you can fry things on the go.
Tell a friend to buy for you
8. Long Sleeve Flannel Blankets

This is a match made in heaven for this winter period. A blanket you can wear indoor and feel warm and comfortable instead of wrapping yourself with your bed blanket all the time. It is oversized, which makes it comfortable to wear and as well easy to put on or take off. It is available in many different colours and design, so there is something that will match your taste.
Tell a friend to buy for you
9. Tetra Tower Balance Game

This is just as its name says. It is a balance game in which each player take turn to place tetra pieces on top the tower. The player that placed the last piece before the tower falls loses. It can be a fun way to have fun in the house and play with the kids.
Tell a friend to buy for you
10. Portable Mini Thermal Printer

This is a portable mine cool looking thermal printer that you can use to print anything on the go from your mobile phone. It is suitable for printing receipts, notes, illustrations etc. It is compatible with both Android and iOS and available in multiple languages. It prints in 200dpi high resolution and at a speed of 10mm/s. It can print photos, labels, messages, list, records, QR code, content from the web and many more. It is light weight which makes it easy to carry about. You can connect it to your phone either through Bluetooth or through USB. You will get a free paper roll with your order, depending on the package you choose.
Tell a friend to buy for you
So, these are the top trending products on AliExpress for this week. We hope you found something new here and we look forward to seeing you next week for another product round up.