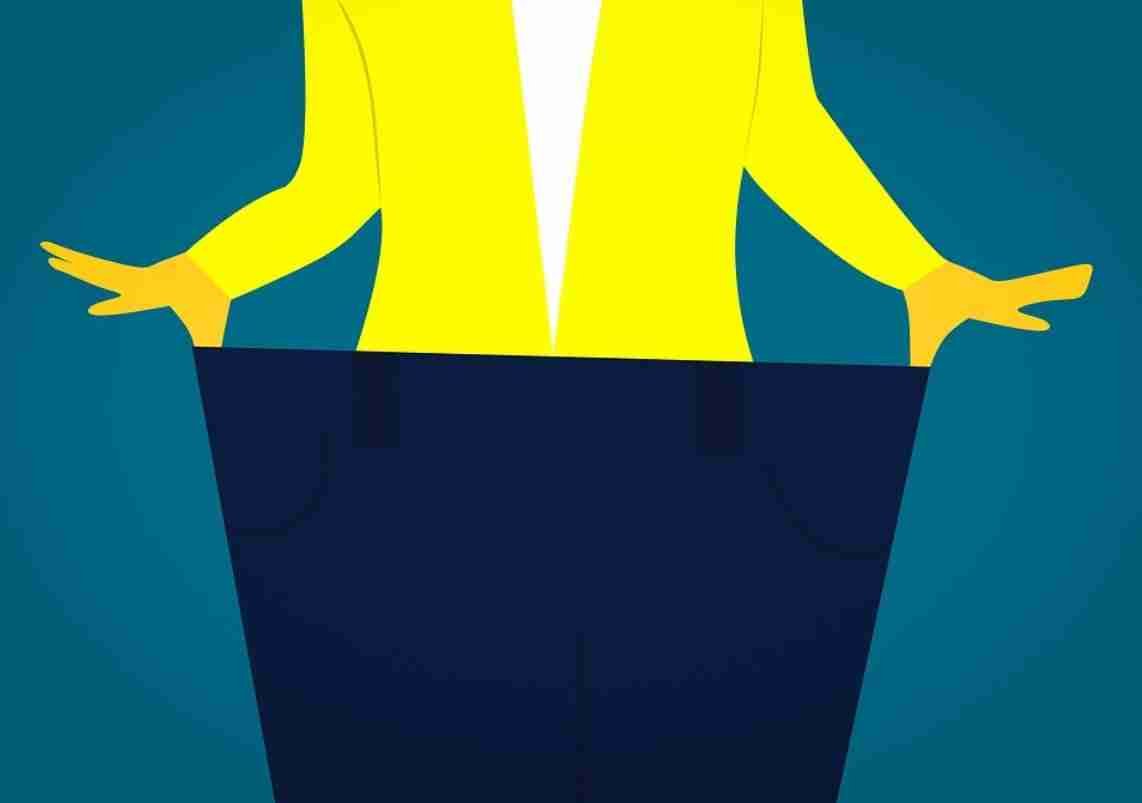 You finally found the perfect outfit at AliExpress. It is time to add it to cart. Then AliExpress tells you to choose your size. This is where the confusion starts. You look at AliExpress size chart and many questions start to pop into your head.
What size should I choose? Size M? But the M look too small? What is AliExpress size M in my local size chart? What if I buy the wrong size?
Then you put the shopping on hold and rush to Google to search "AliExpress size chart". And you probably landed here :).
Well, you arrived at the right place. Because in this article, we will digest everything you need to know about AliExpress and Chinese size chart and how this translates to your own size chart. We will look at everything that requires picking size on AliExpress and this includes shoes, clothing, rings, children wears and every other thing.
We know how dreadful it can be when your order finally arrives and it is not your size. You will have to worry about returning the item and asking for exchange or refund. It can be extra stress that nobody wants. So, the best thing is to get the size right when ordering. But note that you can always cancel your AliExpress order and get a refund if you feel you have made a mistake. Of course, that is before the order is shipped. If the order is already shipped, return is your best option here.
So, let's look at AliExpress size charts in details, shall we?
AliExpress Size Charts
For Adults
AliExpress Shoe Size Chart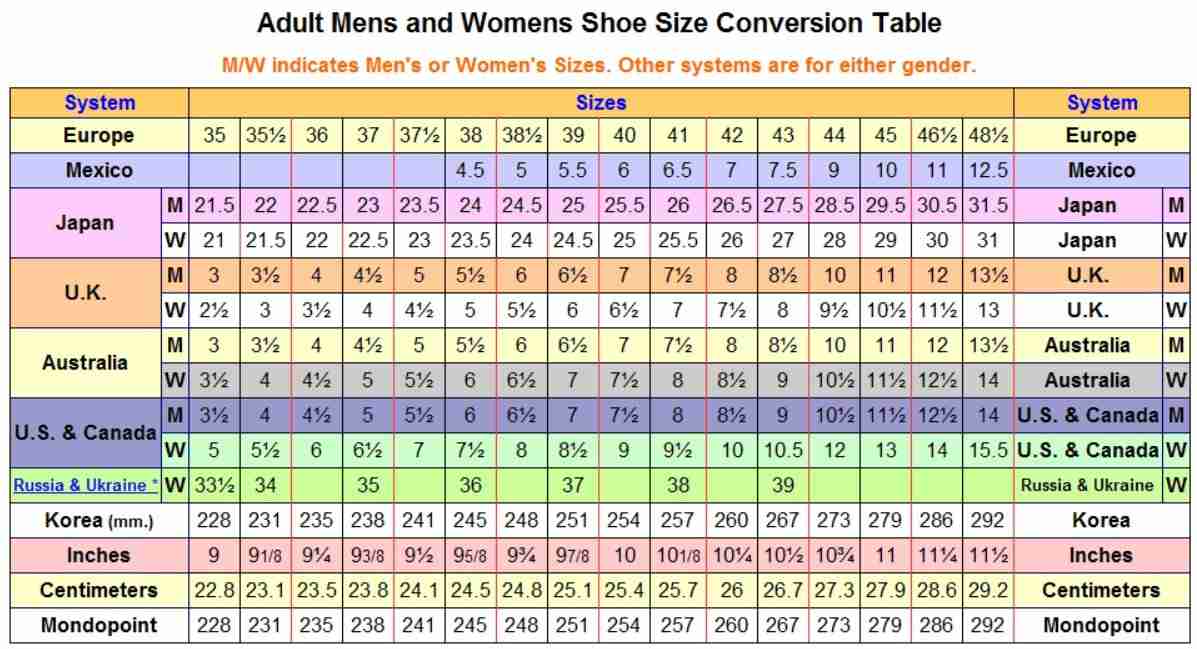 The table above shows shoe sizes conversion in different countries and region as well as their equivalent centimeters, inches and mondopoint conversion.
You can simply use table to convert the shoe sizes on AliExpress to the standard your country uses if you know the size you wear in your country.
In case you do not see your country or region in the table above, just search on Google the size standard your country uses and compare it to one of those on the table.
The sizes are also broken down to women (W) and men (M) for some region. This the case where women have different sizes than men.
When it comes to shoe sizes on AliExpress, most sellers follow the standard American format. That is 6.5, 7, 7.5, 8, 8.5 etc. This is not the case for all sellers however. Some sellers follow the standard European and Chinese shoe format when displaying shoe information on their product page.
How to use the table above
It is very simple. Let say you are a woman in the UK and you wear size 6. You simply find the equivalent of size 6 women shoe in the column that says "U.S. & Canada". That means you will have to go for a shoe of size 8.5 on AliExpress. Assuming the seller is using the American standard.
Similarly, if the seller is using the European standard, simply find the equivalent in the "Europe" column. In this case, our UK women size 6 will be 39.
Even though most of the sellers on AliExpress will follow either of the format described above, mistakes are bound to happen. And you can never be too sure the format the seller is using because sometimes they do not specify. And what if you don't know you size in your local measurement already?
More so, given the confusion that comes with converting your AliExpress size to the equivalent in your country, it can be hard winning the dispute argument with the seller when you order the wrong size.
For these reasons, we recommend using the method we will describe below when choosing shoe size on AliExpress.
Recommended method: Measure your foot in CM or in inches
You can hardly go wrong with this method. And when the mistake is from the seller, it is easier to prove if you are using CM measurement. In which case all you have to do is to send a photo measuring the shoe you received in centimetres and sending to AliExpress. If this measurement is different from what the seller described on their product page, then there can be no argument here.
The procedure to using this method can be summed up pin two steps:
Take a look at the product sheet on AliExpress and find the shoe size in centimeters (CM)
Measure your foot.
Below, will explain how to measure your foot in centimeters correctly. But first, let's look at how and where to find the conversion table in centimeters on the product page.
Where can to find the conversion table in centimeters
Over the years, AliExpress has continued to improve as should any good online store. Most products on AliExpress now features a column where you can see the product size in CM as well as in Inches. Some products also have the "Size Chart" button that shows the products size in different units and the equivalent in different regions.
To find this in the app, first select a product colour and then click on the size and it will display an additional column that shows the size in different units. Or simply click on the "Size Chart" link to show a more detailed view.
The image below illustrates that in details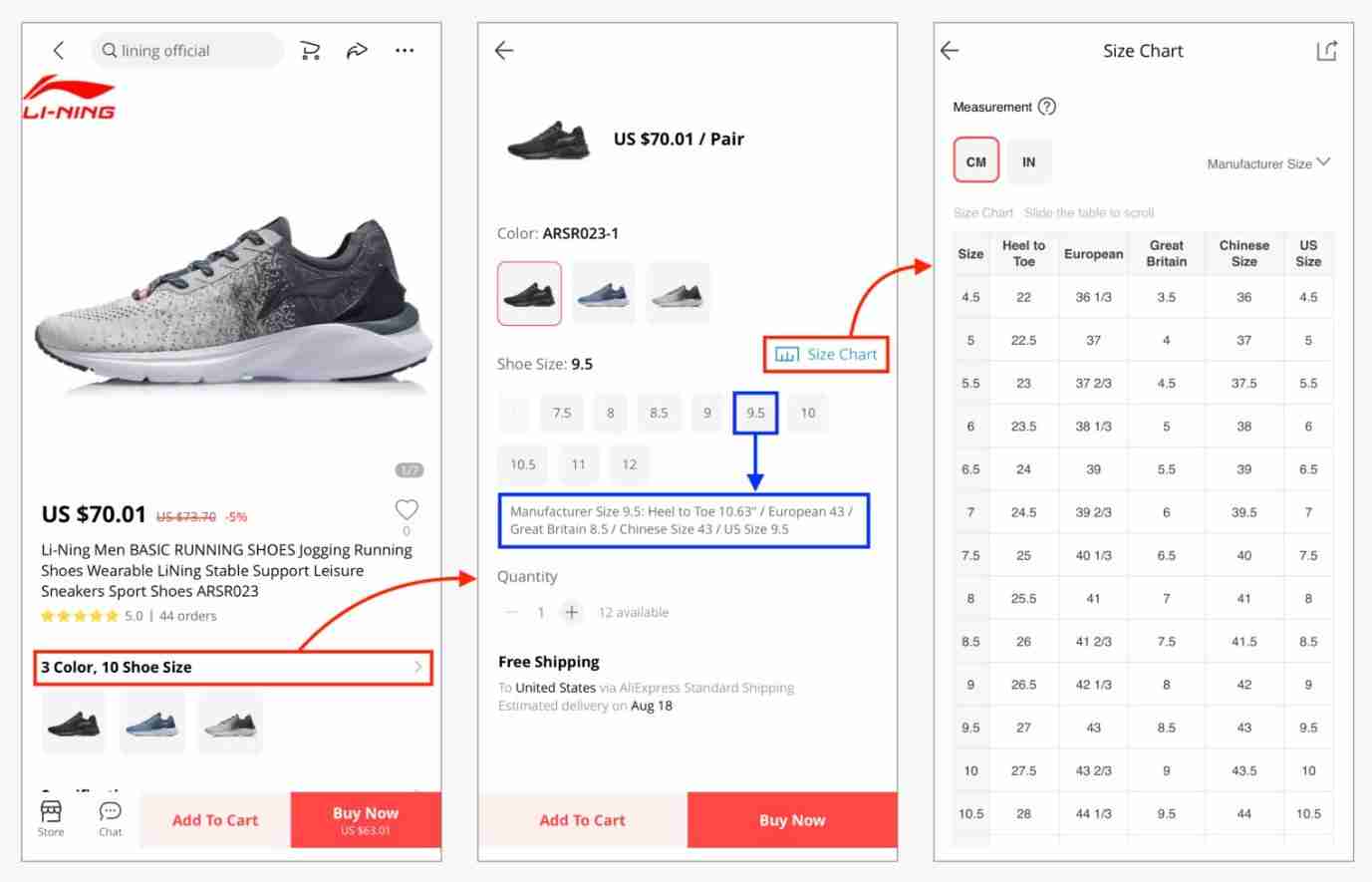 On the web, simply hover your mouse over the size to see the size details in different units.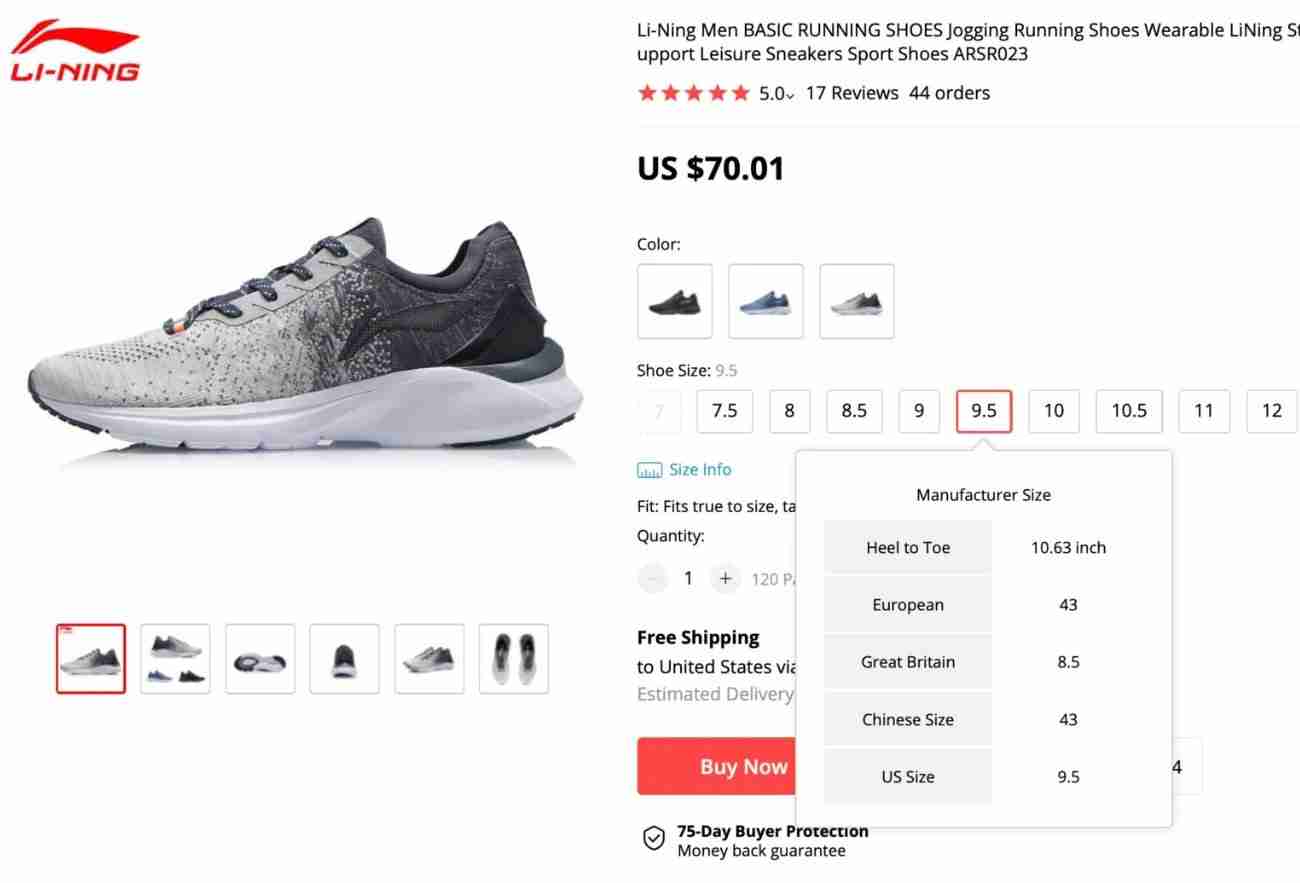 This is the case for most products but in some cases, the seller may not have added the size information. In this case, what you need to do is to look for the product measurement in CM or inches in the product description. If you can't find it ther either, you can contact the seller and ask for more details or simply move on to another product.
The product description can be seen in the "Item Description" tab and on the web, simply scroll down and you will the product description.
How to measure your foot
Follow this procedure to get accurate measurement of your foot in either CM or inches.
The measurement can be trick if you are doing it on your own. There is a possibility of some errors due to you bending down to take the measurement. But the good part is that you only have to take the measurement once if you are an adult because your foot size will rarely change if you are an adult.
A simple way to do this is to place your foot on a plain sheet or anything of that sort and mark a line in front of your tallest toe and behind your heel and then take the measurement between these two marks.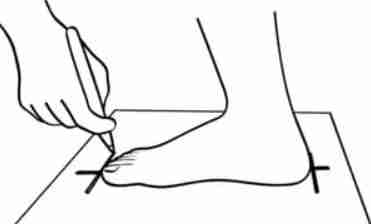 Alternatively, you can lean your heel against a wall and mark a line in front of you toe and then take the measurement between the wall and the line you marked.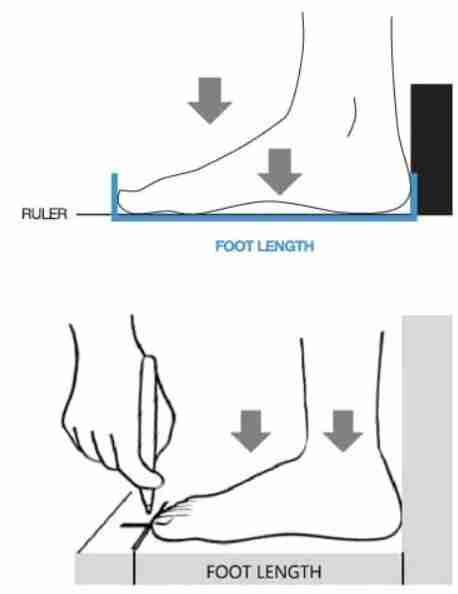 These two methods are the most standard ways to do this. Just choose anyone that is more comfortable for you or you can do the two and compare the results.
A good rule of thumb is to always go for the bigger size when in doubt.
To make things easy, you can use the AliExpress size calculator to quickly calculate your shoe size.
AliExpress Clothing Size Chart
When it comes to clothing, getting your measurement can be a lot more tricky. We often tend to under estimate our body size.
And the different sizes we are familiar with (XS, S, M, L, XL, XXL, etc) can mean different things depending on the type of cloth. Size S might be good for you for a t-shirt buy may be too small for blouse.
This makes picking a size when it comes to clothing more challenging and not just with AliExpress but with every online clothing stores. But the fact that AliExpress doesn't have a definite standard for all their sellers makes it more challenging. For instance, many sellers on AliExpress use the American size standard, that is, sizes from 0 to 18 for tops and sizes 26 to 38 for bottoms. While some others use European sizes (sizes 32 to 48) and some others use Asian standard sizes (S, M, L, XL, 2XL, etc).
This table below show the different sizes and their equivalent in other regions or units.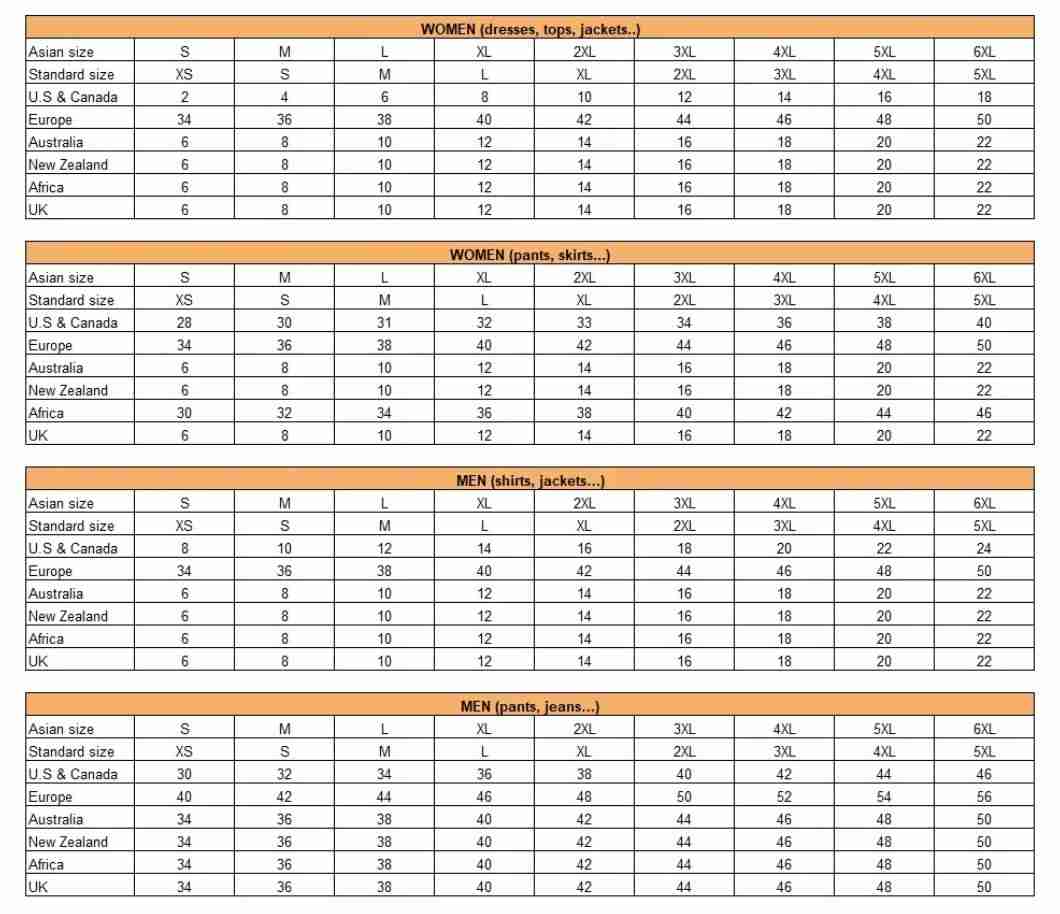 You can use the table to convert the seller's size to your own size if you know your size.
But as we have learnt from shoe sizes, this approach is not always the best option because it can be hard to know exactly the sizing standard the seller is using or there can be a wrong interpretation of the sizes, either from you or from the seller. Thereby making it difficult to resolve any dispute or to attend to any return request because there is every possibility that you and the seller might be on different page as to the interpretation of the information.
That is why we recommend the following approach:
Look at the measurement table in the product sheet and then check the equivalent in centimeters.
Compare with your measurement and then choose the one that suits you the most.
With these simple two steps, you can hardly go wrong when picking sizes with your order on AliExpress. And more so, if something should go wrong as a result of sellers miss information, it will be easier for you to prove and get your money back or get an exchange. Also on the good side, once you know these measurements, you don't have to redo them every time you want to place your order and you can also use the information when ordering from other stores.
Next, we will look at how to measure yourself correctly, the most important parts to measure and the common methods for doing so. But first, let's look at how to know AliExpress' clothes in centimeters.
How to know the clothes measurement in centimeters or inches
Just like in the case of shoes, AliExpress will show you the size equivalent in CM or inches by simply hovering your mouse over the size. But you will have to do this for every size you want to know the equivalent which is not ideal if you want to check different sizes. So, a better approach will be to click on the "Size information" to see all the sizes at once.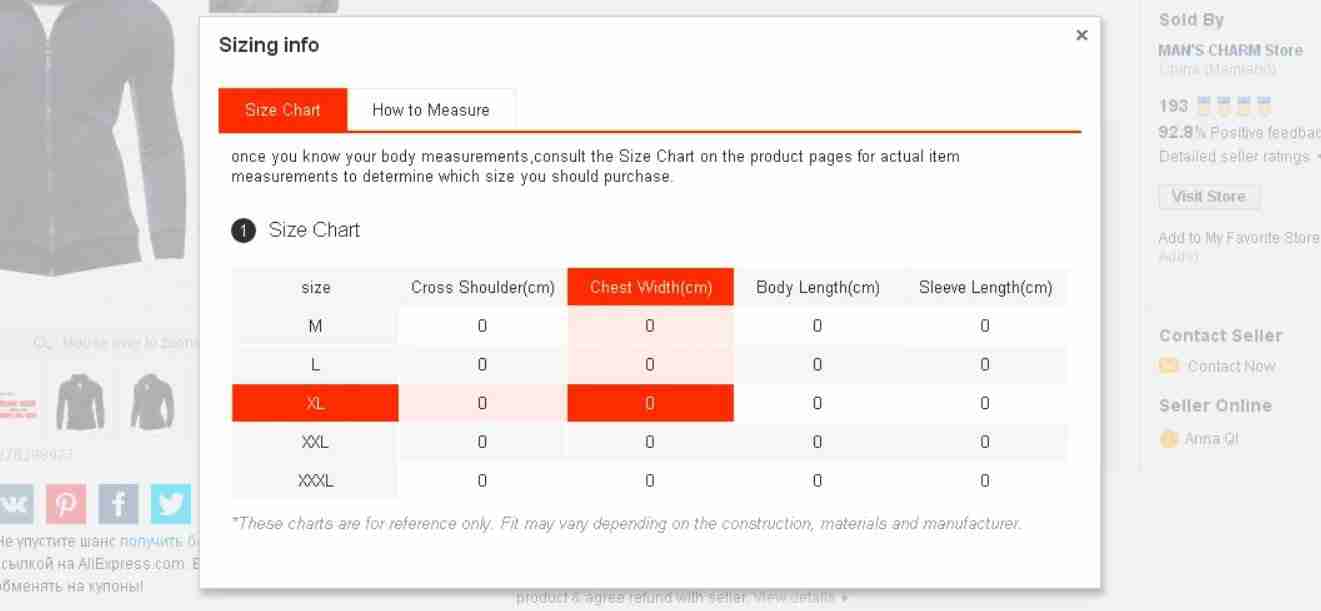 You can follow the same procedure if you are shopping from the mobile app.
However, not all the sellers have this information at the size selection section on AliExpress, but you don't have anything to worry about because most will have this in the product description. All you have to do is to check the product description for a table with this information.

Some others may go as far as including a table that recommends a size for you depending on your body weight. That's still another way to pick a size if you know your body weight but it is not ideal. We still recommend you measure yourself in CM or inches.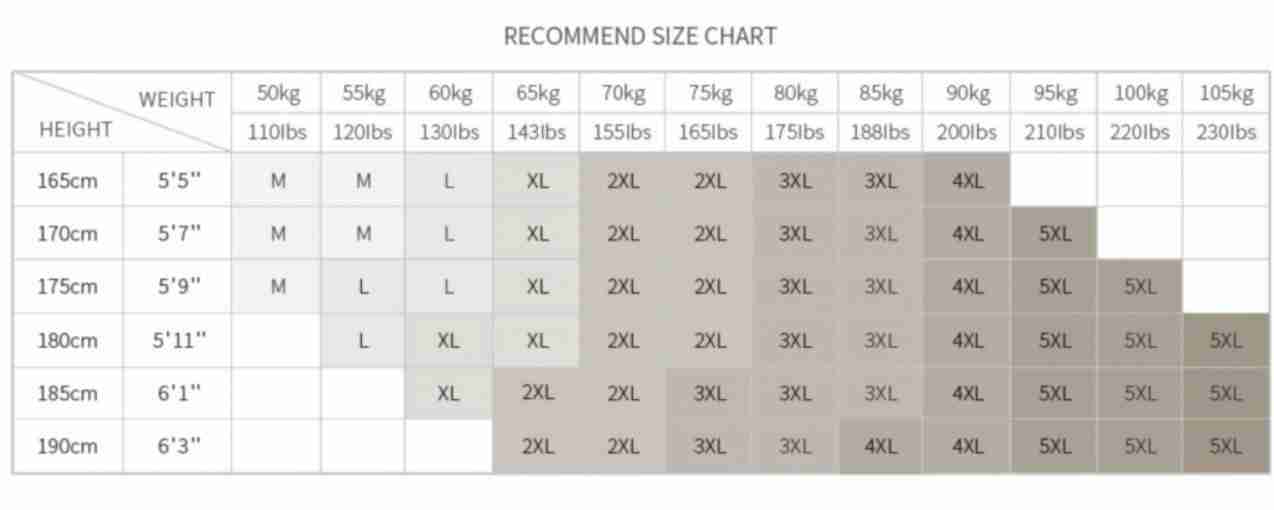 Keep in mind not to confuse centimeters (CM) with inches (") when taking your measurement because they are two different things. Always stick with one but check the one the seller provided information in. Most sellers will provide their measurement in both though because those are the most commonly used units of measurement.
How to properly measure your body
To properly measure your body, we recommend you use a measuring tape to get more accurate measurement. It is a good idea to take note (write down) of these measurements so as not to forget them and also for future references.
When taking your measurement, these are the essential parts to measure.
For tops
Shoulder: For the shoulder, you measure from one shoulder seam to another shoulder seam.
Bust: This is the wildest part of the chest. For this, you pass the tape around your chest from under the armpits and measure the circumference of the widest part of your chest.
Sleeve length: This refers to the length of the sleeve. Measure from the shoulder seam to the end of the sleeve. For long sleeve, you measure to the arm wrist.
Front length: This is the total length of the garment. For this, you measure from bust to the hem.
For bottoms
Waist: This is the smallest part of your waist line. Measure around the area you will normally wear your pants. Do not tighten the tape when taking this measurement. It is recommended you put a finger in between the tape and your waist when taking this measurement.
Hip: This should not be confused with waist. For this, you measure the widest part of the pants or skit around the hip area.
Length: This refers to the longest part of the outfit. The type of outfit will determine where the length will reach.

Rings
This is one thing you will find very cheap on AliExpress with many options to choose from. It is also one of the best selling products on AliExpress.
The table below shows AliExpress ring sizes in different units. For most case, AliExpress uses U.S. ring sizing.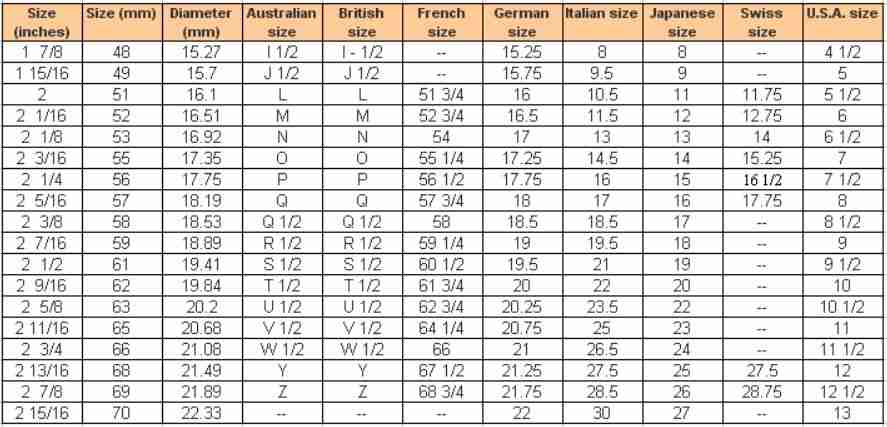 Getting your ring size can be as straight forward as it can be. Simple measure the circumferences of the finger you want to wear the ring in and use the chart to choose your size in American sizing.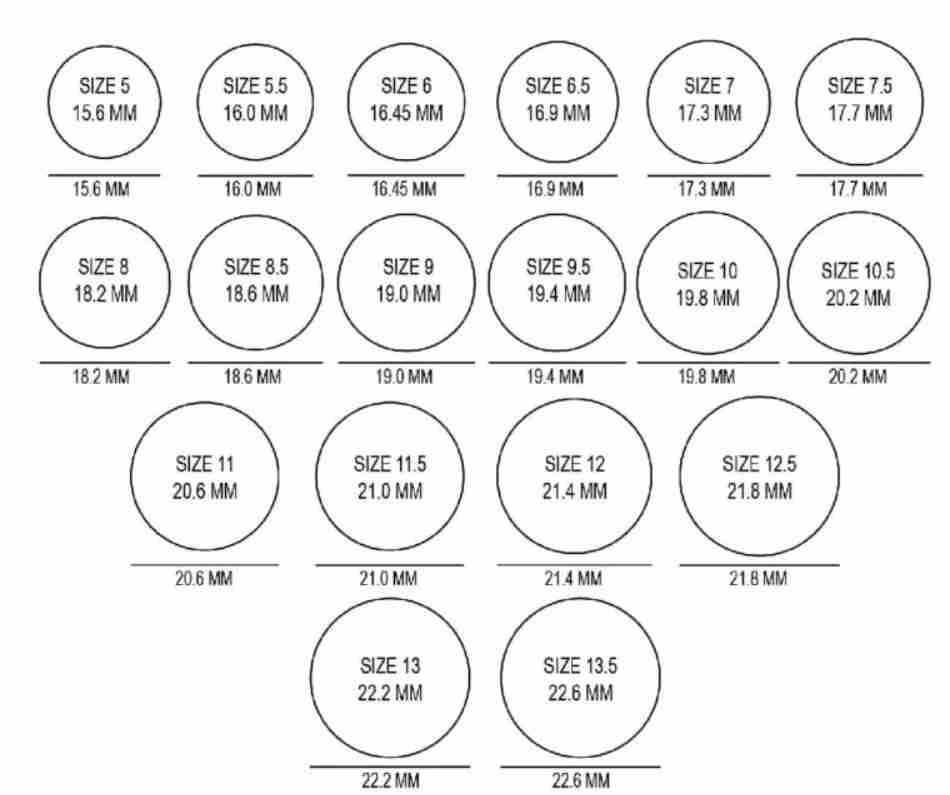 Rings are usually measured in millimetres. So, it is recommended you take your measurement in millimetres (MM).
For Children
AliExpress shoe size chart for children and babies
For children and babies' shoes, the system is the same as the ones for adults described above. The sizing on AliExpress can either be in American, European or Chinese format. You can simply follow the procedure described above to pick the right size for your child but instead of the table in the adult shoe section, you use the table below for your references.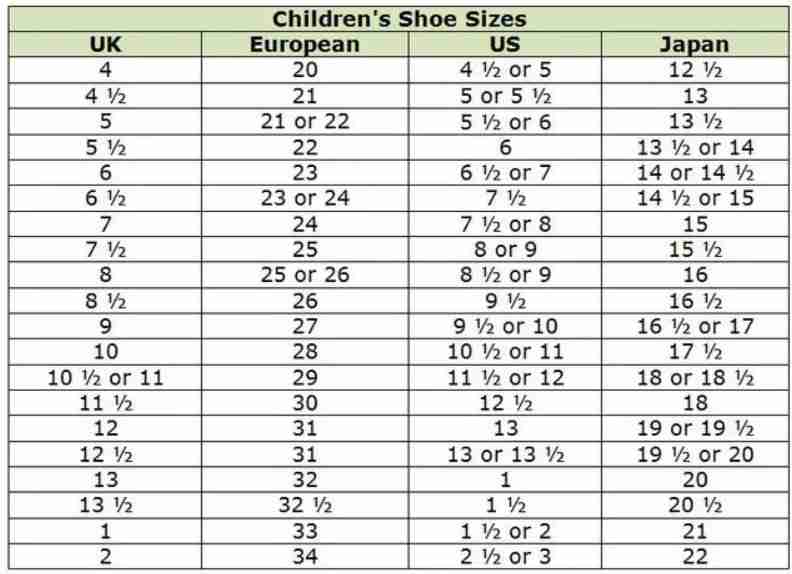 This table will come in handy when you want to buy shoes for your kiddos without measuring their foot. Maybe because you want to surprise them with a gift. But if you have the opportunity to measure their foot in CM, this approach is the most recommended to minimize error.
AliExpress clothing size chart for children and babies
The same goes for children's clothing on AliExpress. But in this case, you use the table below as your reference and for conversion.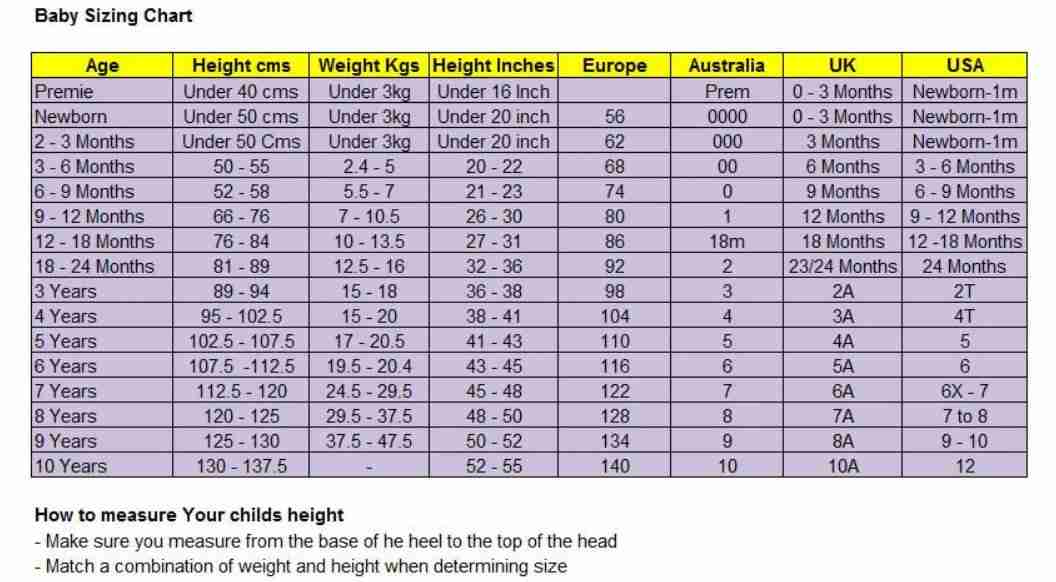 It is however also recommended that you measure your child and do not rely only on the table conversion. Unless were it is not possible to measure them. Most sellers on AliExpress will also provide measuring guide in the product description. So, be sure to check these out.
Other Sizes
In this section, we will look at how to choose your sizes for other items such as underwear, hats, gloves, etc.
Underwear (briefs, bras, panties, socks)
AliExpress briefs size chart
For panties and briefs, you can simply use the same method described when measuring yourself for clothing. Just use your tape and measure yourself around where you usually wear your undies. Then compare your measurement with the size information that the seller on AliExpress has provided.
AliExpress bra size chart
For bras, some countries use the cup measurement system but if this is not the case your country, you can use tape to measure yourself. To do this, measure your bust while bending at 45 degrees to determine the cup size and then around your chest just under the breasts to determine the band size.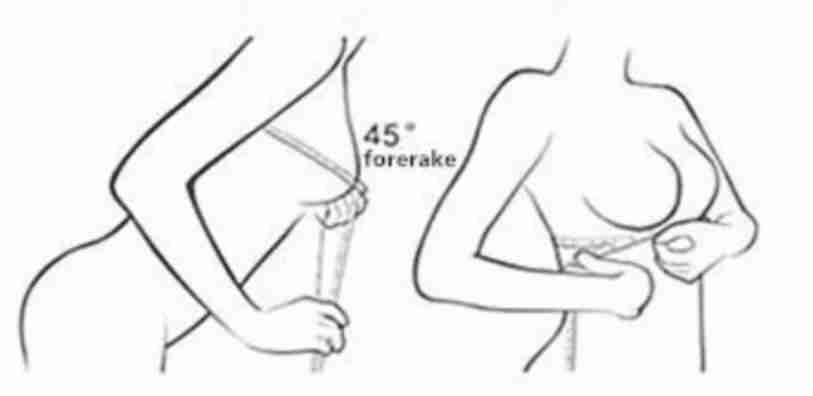 When determining your socks size, simply follow the same process described above in the shoe section. Socks sizes is very similar to that of shoes. The only difference here is that they work in ranges. For example, if your European shoe size falls between size 39 and 42, then your socks size will be M. and so on. Socks are usually elastic and so, you can hardly go wrong with this one.
AliExpress Glove Size Chart
This may seem like something you don't need to pay attention to but it does matter because you can go wrong buying gloves. Especially for gloves that are not elastic.
The sizing procedure we will describe below applies to all types of gloves. Whether you are buying dress gloves (for winter), motorcycle gloves, work gloves, etc.
To measure your hand for your glove size, there are three important parts you need to measure. Around your wrist, around your palm, and then the distance between your wrist and your tallest finger as shown in the picture below.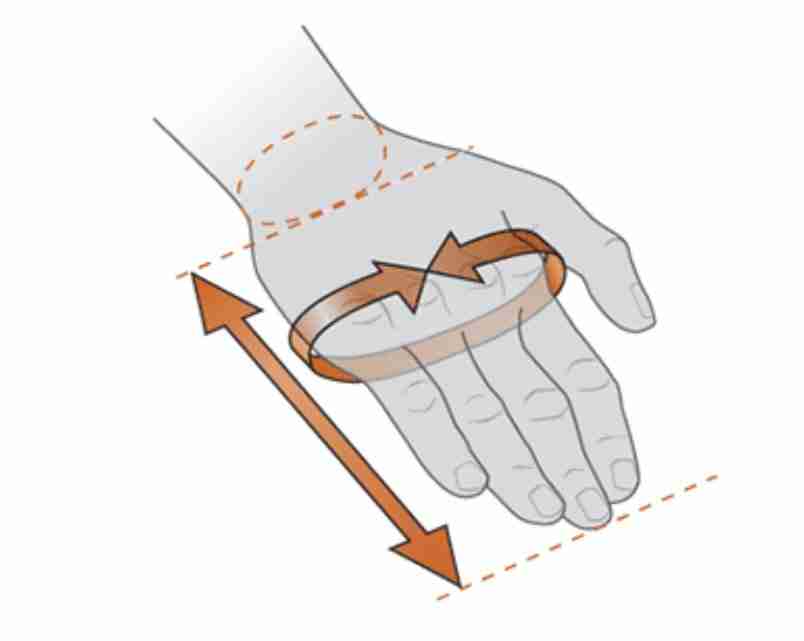 With what you got in this measurement, you can then select your size on AliExpress.
AliExpress Sunglasses Size Chart
Another equally important item that people don't pay much attention to when it comes to picking their size.
The picture below shows the areas you need to pay attention to when measuring yourself and picking a size for your glasses to make sure you don't end up with glasses that are either too big for you or too small. If you end up with glasses that are not your size, it can be a lot uncomfortable to wear. Especially if you will be wearing them for a long time.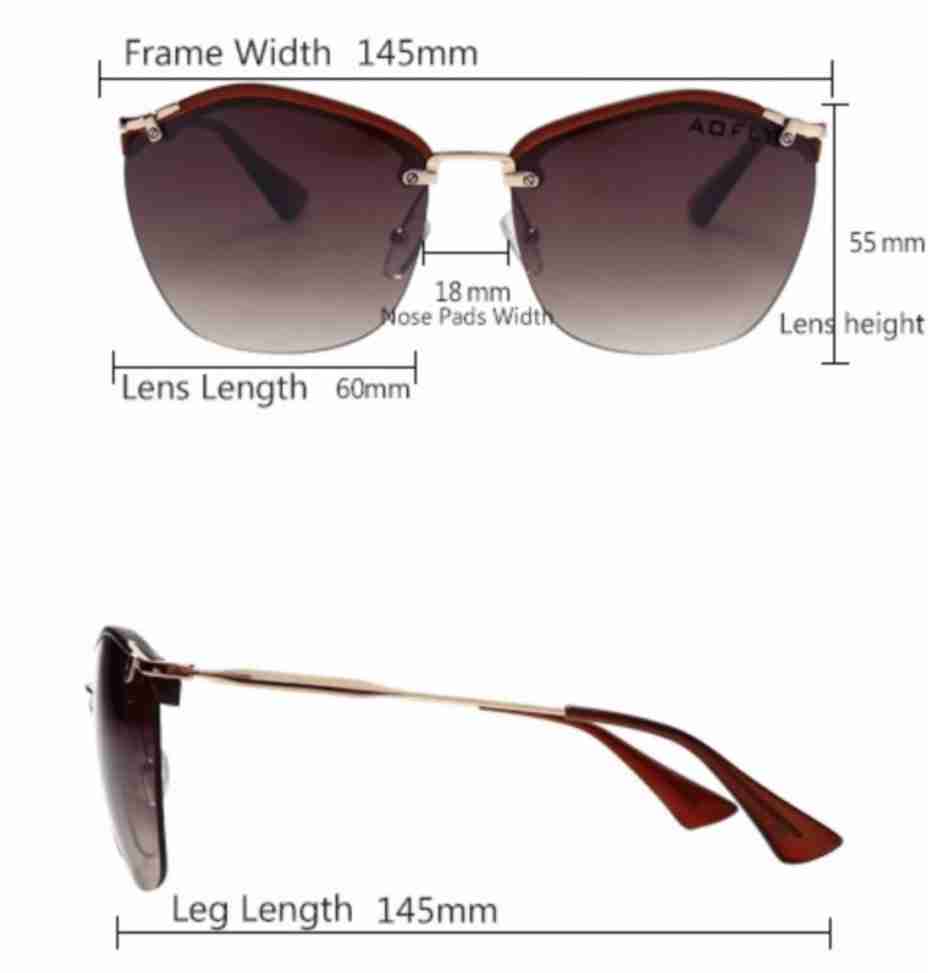 AliExpress Handbag Size Chart
When it comes to picking a size for handbag, this depends solely on your preference and doesn't have anything to do with any size of your body. This guide is simply to help you with what to expect with the size of the bag you are picking.
The key things to pay attention to here are height, length and width. This is to determine if the bag will be sufficient to carry whatever you want to use it for. Normally, the sellers on AliExpress will provide this information in the product description.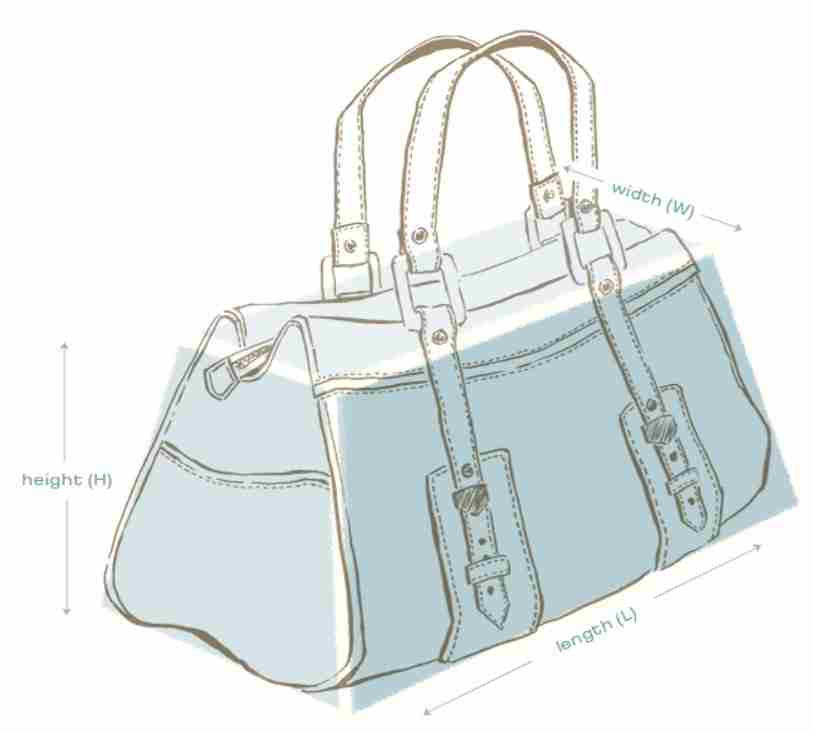 AliExpress Watch Size Chart
Watches come in different sizes. Although the strap of a watch can be adjusted to fit your wrist or replaced entirely but it is good to save yourself the stress when it is absolutely not necessary. That is why it is good to pay attention to the size of the watch before ordering. It is also good to pay attention to the size of the watch's face to see if it will be good for your wrist and not too big or too small.
These sizes will always be provided by the seller in the watch specification in the product description. Watch sizes can also vary depending on the gender it is made for. For instance, watches for men tends to have bigger faces and straps compared to watches for women.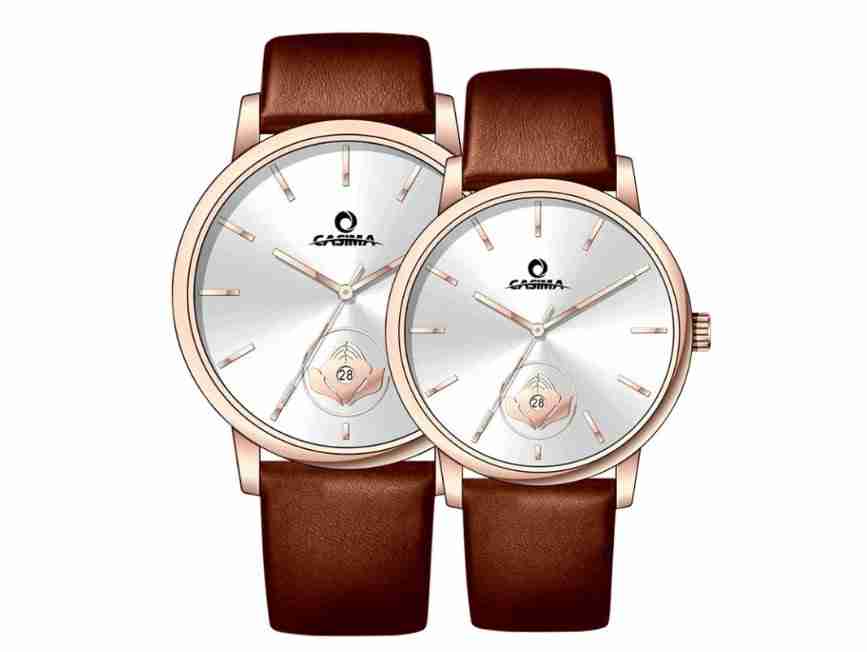 Frequently asked questions and tips on AliExpress size chart
Why is AliExpress Asian size chart smaller than Western sizing?
The Chinese/Asian is usually smaller than that of the European or American because of the physical nature of the Asians. An M size in Chinese sizing will definitely not be the same as an M in European and American size. This is something that you should pay attention to and don't assume that since your size is M you should always go for size M wherever you see it.
Why do the sellers on AliExpress have different size charts?
All AliExpress sellers are based in different location and are independent. It will be quite difficult for AliExpress to regulate the size the use in making their products. That is why they all have different sizes.
Tip: Don't make the mistake of assuming because you bought size L or size 39 from one seller and it fits you perfectly so you should always buy the same size from all sellers. This is not the case with AliExpress.
Are AliExpress size chart always in Asian size format?
The answer is no, AliExpress size chart is not always in Asian size format.
This is one common mistake that people make. Because AliExpress is a Chinese store, they will assume that the sizes of every item on AliExpress will be presented in Chinese size standard. This is not the case because of the reason we mentioned above. AliExpress has sellers from all over the world, including in Europe and America. This is something you need to keep in mind.
Finding the product data sheet
It is in the seller's best interest that you don't make mistake when picking sizes so as to avoid the problem that comes with returns. Nobody wants that, not even the seller. This is the reason they will always provide you with as much details as possible when it comes to the size of their product.
It is your responsibility to find and pay attention to this information. For most products you will always find them in the description and they will look something like the table below.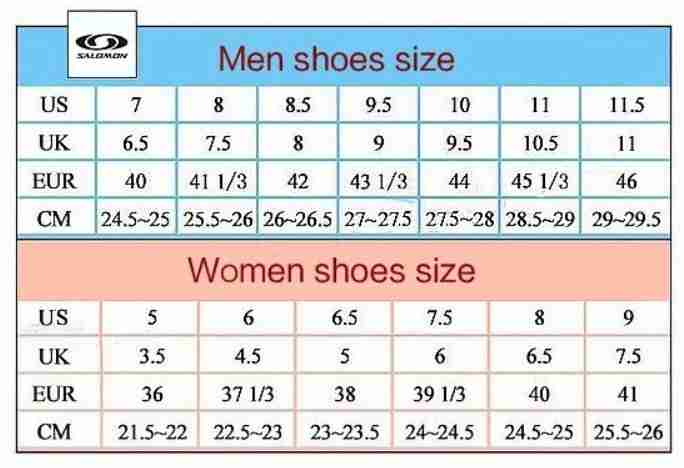 Can I contact the seller about the size?
Yes, you can.
I you have any doubt about the product size but you really want to order the item, you can always contact the seller directly for more clarification about the size of their products. You can use this link to go directly to message center on AliExpress or you can learn more on how to contact a seller on AliExpress here.
Tip: You can also look at other buyers' review to see what they have to say about the size. Whether they are saying the size is bigger or smaller than what was described.
Can I change the size of the item I ordered?
If your order is not shipped yet, you can cancel it and order again with your preferred size. But if the order has been shipped, you best bet is to return it for an exchange or for a refund.
But sometimes returning an AliExpress item can be expensive (even more expensive that the item itself especially for sellers in China) because not all sellers offer free return. Another alternative is to look for AliExpress reseller groups on social media and see if anybody will be interested in buying the item from you.
The size does not correspond to the description, what should I do?
In this case, what you have to do is to contact the seller and tell them about this or ask for a refund. It is the seller's responsibility to address this and offer compensation since the mistake is from them. In a situation where by the seller is not cooperating, you can open a dispute and AliExpress will step in to address the issue.
When opening a dispute or contacting the seller, it is good to provide pictorial evidence that support your claim. That will make the resolution much faster.
Conclusion
That's all you need to know on AliExpress size chart. If you still have question, you can ask us using the comment section below and we will provide you with an answer to the best of our knowledge.
We hope that you find this article helpful. If you do, please share it to help others learn as well.
Ready to shop at AliExpress? Use AliExpress coupons and deals to save big on your orders.
Latest AliExpress Coupons
Now you know how to find your perfect size on AliExpress using the AliExpress size charts, it is time to continue your shopping. Use latest AliExpress coupons below to save big on your order.
Filter by Country

All categories

Brazil

France

Global

Korea

Spain

USA
Best value
Take advantage of this AliExpress September coupon and get extra $14 off your order over $120 for top selected products. Offer valid only for a limited time.
Take advantage of this AliExpress September coupon and get extra $6 off your order over $50 for top selected products. Offer valid only for a limited time.
Take advantage of this AliExpress September coupon and get extra $3 off your order over $25. Valid only for a limited time.
Take advantage of this deal and get up to 70% OFF on your order on AliExpress and save more with coupons. Offer valid only for a limited time.
Filter by Country

All categories

Brazil

France

Global

Korea

Spain

USA